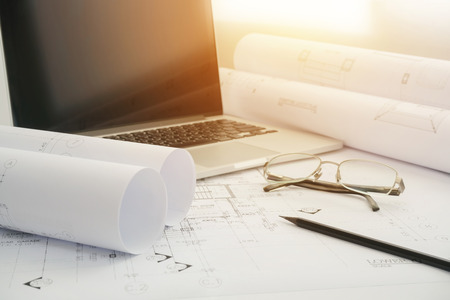 FREQUENTLY
ASKED QUESTIONS
XactSpace
What is an as-built plan?
The term As-Built is a common term used to refer to floor plans or drawings that represent the current or more up to date layout of a building. Due to recent or frequent changes to a building's space and layout, floor plans change and documentation reflecting those floor plans needs to be updated.
Who needs an as-built plan and why?
Building owners, property investment groups, property managers, realtors, architects, interior designers, facility managers, safety personnel, and general contractors can all benefit from as-built plans.
Many of these groups need a floor plan drawing to perform a certain task, whether they use it as a tool to estimate how much material to purchase, to understand how best to utilize their space, to ensure they are paying a competitive price per square foot for new real estate, or to make a plan in an emergency. Many times a building, especially older buildings, no longer has floor plans available or if they are available, there is no guarantee they are accurate. Original floor plans can become out of date as soon as construction begins.
Having an as-built plan for a building can save time and money when it comes to projects that are focused on equipment installation, remodeling, space allocation and utilization. Also, real estate is traditionally bought and sold based on square footage. This can vary over time with changes to the property or changes in calculation methods. Having an as-built plan has proven helpful in the due diligence process. NuSpatial can help clients have peace of mind that they are getting the most for their money.
How are as-built plans created?
Organizations or people who need as-built plans have used several approaches depending on how quickly, accurately, and to what degree of detail is desired. The first task is to capture all of the measurements on site, which can be done with a tape measure, a hand laser, or a more sophisticated laser based device. How long this process takes varies based on what tool is used. For instance, hand measuring with either a tape measure or a hand laser would take longer than using a multi directional laser device. Collecting a complete data set also varies based on the tool. When manually drawing the space and recording measurements, there is a risk that parts of a building could be missed. Even more sophisticated laser devices can result in this issue because if you can't see the layout pieced together in real time, it is difficult to determine if all areas have been measured. Finally, convenience is also a factor. Some devices require a full evacuation of the space before it can be measured. That is tough to do for a hospital which operates every second of every year.
Once measurements are collected, the data is transferred to a CAD tool. When the data is collected manually, errors can be introduced in the transfer process. For example, interpretation of handwriting or mistyping the value in the CAD tool can be problematic. More sophisticated data collection methods minimize the risk of error but there is no method that is completely error free. Once the data is imported into a CAD tool, the data is used as a guide to overlay the as-built plan features such as walls, doors and windows. The degree of manual effort to do this overlay can vary based on available tools.
A key thing to keep in mind is that the more traditional methods of generating as-built plans take longer than expected, require a lot more effort and cost more than expected. Although new technological advances bring that delivery time down, the cost of the tools needed are extremely expensive and a lot of times, the data collection devices capture much more data than necessary and require feature rich but complicated software. NuSpatial has a process that enables us to collect data on site quickly with little to no inconvenience on the client, deliver the as-built plan in a shorter timeframe, and do it for a fraction less than both extremes.
Why should I choose NuSpatial to create as-built plans?
One of NuSpatial's biggest differentiators when creating as-built plans is that we use a revolutionary 2D laser based backpack system for our data collection process. Because of the mobility of the system, we can collect data from spaces that would otherwise be difficult to measure. We piece the data together in real time so our scan technician can see the layout being generated as he/she walks through the space. This gives us the confidence that the data collected is complete and doesn't require another trip back to the site. Our system also allows a building to remain in full use during the data collection process. Many times we are able to collect data without bystanders even realizing we were there.
Back at the office, it's easy to finalize the as-built plans from the collected data because we captured only the information we need. Sophisticated scanners on the market collect high resolution, high density 3D data. This information can be tedious to sort through, not to mention the high prices companies pay for these scanners means high prices for their customers.
As you can see, NuSpatial is the perfect company to deliver as-built plans. We don't inconvenience our customers and we save them time and money.
What project types are most efficient to utilize NuSpatial?
NuSpatial does best in interior scanning and architectural plans. Depending on project size and type, we have scanned industrial warehouses, retail spaces, office spaces, business parks, multi-family, single family residential, clubhouses, education, institutional, and more.
What is NuSpatial's mobile scanner and how does it work?
NuSpatial's mobile scanner is a laser based backpack system that our field engineer wears while walking a building's interior space. By using an Android tablet, our field engineer can view the layout being constructed by the mobile scanner in real time. Its mobility allows NuSpatial to speed up the scanning process from start to finish. Other scanner types require the use of tripods and require additional time to setup and calibrate. Tripod scanners also cannot scan behind objects, therefore, the scanner needs to be moved and reset in multiple locations within one room. NuSpatial eliminates all the reset time due to the mobility of the scanner around obstacles.
How much does NuSpatial's mobile scanner cost?
NuSpatial is a service company at heart. In order to ensure our customers get the best experience possible, we manage the entire process from scanning to drafting of final architectural drawings and thus, our mobile scanner is not for sale.
What modeling software does NuSpatial use and why?
NuSpatial prefers to build all projects in Revit. Revit allows drafters to build a single building model using complete components such as walls, doors, windows, columns, etc. These components have their own parameters to match the type of objects they represent. If a door size needs to be changed, changing the component's parameter will automatically change in plan view and in elevation view, unlike other CAD tools. All views are correlated to a single model that is being created. Revit is a complete building information modeling program that collects all the project data throughout each project phase.
What features are found on a basic as-built floor plan?
A basic as-built floor plan will denote room dimensions, single point ceiling heights, stairs, columns, all doors/cased openings, windows, elevators, fixed toilets, and fixed cabinetry.
Can you deliver more than a basic as-built floor plan?
Absolutely. In addition to as-built floor plans, we can create reflective ceiling plans, leasing plans, interior elevation plans, exterior elevation plans, sprinkler plans, electrical plans, plumbing plans, roof plans, section views, and life safety plans.
What preparation is needed before NuSpatial comes on-site?
NuSpatial needs access to all areas you want represented on the as-built floor plan. As a result, you will need to ensure that access is granted in advance, especially by those currently occupying the building. NuSpatial requires documentation from the owner giving permission to enter any rented spaces. The only other thing NuSpatial needs is a way to access restricted areas inside the space whether it be an escort, a key or a code.